Real Estate
Google My Business for Realtors, Mortgage Brokers, and Residential Developers
Understand how to leverage online reviews and set up an optimized Google My Business profile.
---
In today's digital age, the significance of online reviews and a well-managed Google My Business (GMB) profile cannot be overstated. For real estate professionals - including realtors, mortgage brokers, and residential developers - these elements are pivotal in establishing trust, boosting visibility, and converting potential clients.
According to 2023 study 95% of consumers read online reviews before they "buy"¹, and 79% trust online reviews² as much as personal recommendations. Think about this, that means almost every single customer referred to your business, or seeing one of your ads, is Googling reviews of you before they call. Google your business (or yourself) and ask if the results would make a client think, "yes!" How many customers are you missing out on if you don't own that search result page?
The best way to get to that "yes!" is having the search results page convince them before they even click. You can do that by understanding how to leverage online reviews and set up an optimized Google My Business profile.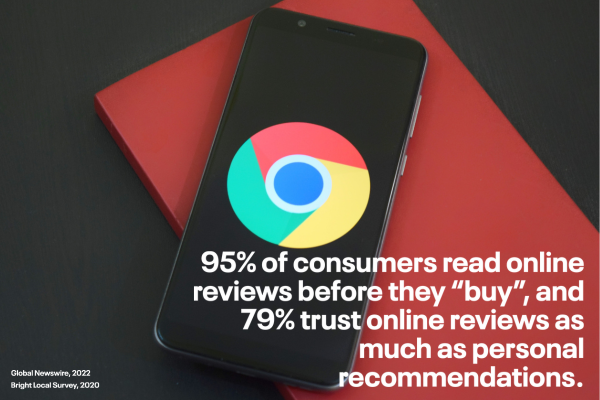 Setting up a Google My Business Profile for Real Estate:
A Google My Business profile is a free and simple tool for businesses to manage their online presence across Google, including Search and Maps. Here are the steps to create your profile:
Step 1: Create and Verify Your Google My Business Profile
Head over to Google My Business and click on "Manage Now". Enter your business name and follow the prompts. Google will want to verify your business - this is often done by mailing a postcard with a verification code to your business address.
Step 2: Complete Your Profile
Fill in as much information as possible - the more complete your profile, the more useful it will be to potential clients. This includes your business name, address, phone number, website, hours of operation, and the services you provide. For realtors and mortgage brokers, be sure to add your license number and areas of specialty.
Step 3: Add Photos
Upload high-quality, relevant photos to your profile. For realtors, this might include pictures of properties you've sold, your team, or your office. Mortgage brokers could include photos of their team or office, while developers might showcase their completed projects.
Step 4: Write a Compelling Business Description
This is your chance to tell your business story in 750 characters. Make sure it's clear, concise, and includes your main keywords.
If you need more guidance, you can check out Google's comprehensive guide³.
After You've Published:
Step 5: Connect your Google Profile to Your Locorum Referral Program.
We will pull in your top five reviews and display them everywhere that your customers engage with your referral program. This will help increase conversions of people being referred and kick-start your profile while you accumulate on-platform reviews.
Step 6: Encourage Reviews and Respond Promptly
Encourage your clients to leave reviews. The more reviews you have, the more credible your business appears. You can use Locorum to send thank you gifts to clients who leave reviews and even use the platform to invite clients to give you reviews on Google, then follow up with a thank you email or gift.
Additionally, Google considers review count and review responses in its search algorithm, so be sure to respond to each review in a timely and professional manner.
Step 7: Keep Information Updated
Maintain your profile by keeping your information up-to-date. If you move offices or change phone numbers, update this immediately on your GMB profile.
Step 8: Utilize GMB Features
Google My Business comes with several features designed to enhance your online presence. Make use of the "Posts" feature to share business updates or promotions, and the "Q&A" feature to proactively address common questions from potential clients.
A well-managed GMB profile and positive online reviews are powerful tools for realtors, mortgage brokers, and residential developers. They not only improve your visibility on search engines but also foster trust among potential clients. By following the steps outlined above, you can optimize your GMB profile and take full advantage of online reviews to elevate your business success.
Sources:
¹Global Newswire https://www.globenewswire.com/news-release/2022/01/13/2366090/0/en/Brand-Rated-Nine-out-of-ten-customers-read-reviews-before-buying-a-product.html
²2020 BrightLocal survey https://www.brightlocal.com/research/local-consumer-review-survey-2020/

https://support.google.com/business/answer/10514137?hl=en#zippy=